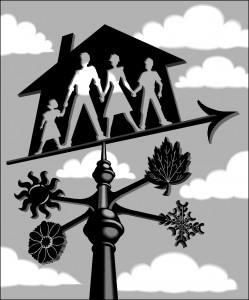 Family.
That is how life began. Adam. Then Eve. Cain. Then Abel.
Jesus entered the world as a baby creating a family of Mary and Joseph.
Families are the foundation of society. Faith is the the foundation of resilient families.
Angel was sitting in her French class several years ago. The instructor explained to the class that in French culture families regularly ate together. She went on to ask the students to raise their hands if their own families sat down to meals together on a daily basis.
Two hands went up.
Family dinners have experienced a 43% drop in the last 25 years. (Bowling Alone .com)
I witness families disintegrating all around me. It breaks my heart.
Over three years ago, I began writing about strengthening families in newspaper column format. It just didn't seem a good fit for me. I had a passion for hurting families and broken families. The column just didn't work for me.
Two years ago, I was approached by a friend. She asked me to speak to her small group about parenting. Terror swept over me. Immediately I thought I can't speak Lord! (Moses came to mind.) I wanted to run. Run far. (Jonah came to mind.) Not wanting to find myself in the belly of a whale, I agreed.
I thoroughly enjoyed gathering information I had found and filed over the years. I began organizing and presenting it in a way to be helpful to other mothers.
I spoke to the group. Pleasantly surprised at how much enjoyment and fulfillment it brought.
I believe God was setting me out onto a totally unexpected direction than I was heading on my own. Outside my comfort zone. Way outside.
Last year, I received an epiphany of the perfect format. Blogging!