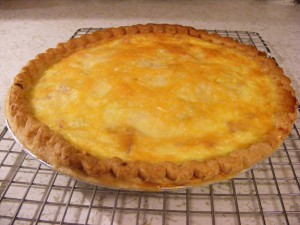 This makes a delicious quick and easy breakfast, brunch, or dinner.
Ingredients:
1 deep dish pastry shell ( I prefer homemade. I used a thawed pre-made shell here.)
1 cup or so diced turkey ham
4 ounce grated or shredded cheese (I used cheddar and mozzarella here.)
4 eggs
1 ½ cups milk (You can use evaporated fat free milk. I used Fat Free Organic Milk)
1 tablespoon unsalted butter
½ teaspoonful salt
1 tablespoonful dehydrated onions or 2 tablespoonfuls chopped chives
Preheat oven to 375°.
Place ham in bottom of shell: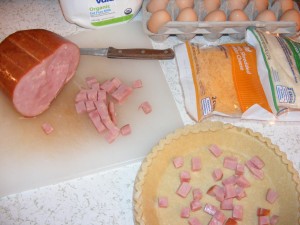 Sprinkle cheese over ham: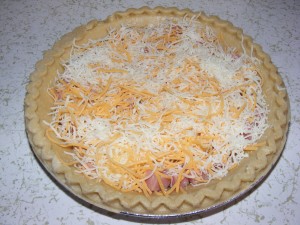 Whisk eggs. Add milk: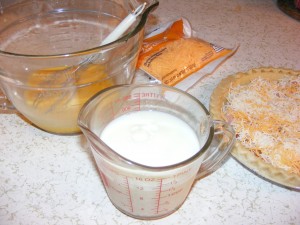 Add salt, onions, and butter cut into small pieces: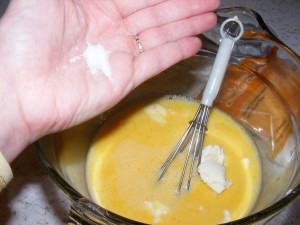 Place shell on a rimmed cookie sheet. Pour egg mixture into shell.
NOTE: Make sure you use a cookie sheet to catch any spill over!
Sprinkle with a few pinches of cheese.
Bake at 375° for 30-40 minutes: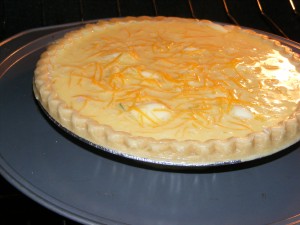 Quiche is done when top is puffed up and lightly browned and a knife inserted comes out clean: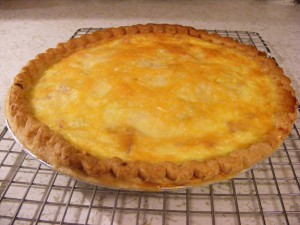 Remove from oven and place on a wire rack for a few minutes: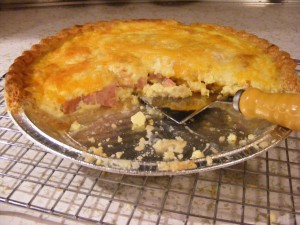 My family loves it!
Quiche is great warmed the next day too.
Yum!