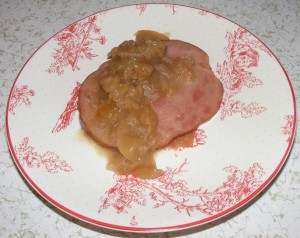 Quick and Easy Ham and Apples 
Delicious!
4 Tablespoons unsalted butter
½ cup brown sugar (I use Organic or Demerara Sugar)
1 Tablespoonful or so of brown mustard
1 pint of canned apple rings (or 2 cups of apples diced)
Turkey Ham fully cooked, sliced ½ inch thick
Melt butter in skillet over medium heat.
Add brown sugar and mustard. Simmer for a few minutes.
Add apples. Cover and simmer for 5 minutes.
Place ham slices in skillet over apples.
Cover. Simmer about 10 minutes.
Makes a yummy sauce!