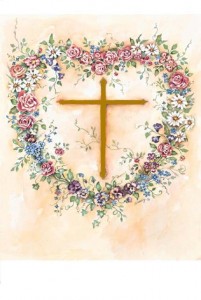 TRUE JOY
October 11
My mother passed away over ten years ago. Where was God you ask?
He was in the gentle voice of the doctor who patiently answered our questions long after he was off duty. He was in the heart of the understanding pharmacist dispensing strong painkillers. He was guiding the social workers that guided my family regarding home care. He was living within the R.N. and the Nurse's Aide who had experienced similar loss and stayed with our family hours after their shifts had ended. He was working through the pastor who rushed to our side when receiving the news of her passing. He was patience within the funeral director who quietly stood in the background while we said our good-byes.
I asked the Lord to end her suffering, hoping for a miracle but willing to accept His answer. His will. At 8:15 p.m. his answer came. Knowing that the end of her suffering would bring the beginning of mine, He sent one of His very best angels. She held me. She comforted me. She spoke to me. An intense peace beyond my understanding flowed throughout my body. I sensed the gates of heaven opened wide and wanted badly to go towards them. She revealed to me that Jesus has more work for me to do. I accepted this and began to notice the atmosphere around me. Everyone was sobbing. I was not. What is wrong with me? I asked the angel. Why am I no longer crying?        True Joy, she simply said.
What are you trying to tell me? I am not happy right now! Ask your pastor was all that she would say. I had many opportunities to do so over the next week, but never did, even with the persistent promptings I could hear whispered to my soul. The week had taken its toll on me. I was exhausted. The following Sunday during worship service I allowed my mind to wander.  Until I was abruptly shaken from my mental stupor. "What is True Joy?" The pastor was boldly asking from the pulpit. My eyes wide, my heart pounding, I eagerly listened as the Lord spoke to me through my pastor.
"True Joy is not the absence of suffering, but the presence of God!"