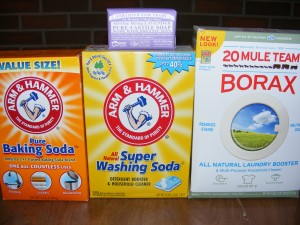 Homemade Powder Laundry Soap
1 cup Washing Soda
1 cup Baking Soda
1 cup Borax
1 bar soap (Fels Naptha, Dr. Bronner's, Castille, Zote, Ivory)
In a container combine the dry ingredients.
Grate the soap and add it to the container.
Use 2-4 tablespoonfuls per load with a shake or two of borax.
I use white vinegar in the rinse cup in place of fabric softener.
I use Dr. Bronner's Hemp with Lavender Castille soap. Smells so good!!