My Chiropractor is teaching me how to cook!
After almost two years of back problems, I broke down and went to a chiropractor.
It turned out that he also practices nutrition as well.
He told me I am addicted to sugar.
The next visit he suspected I may have an allergy to wheat and corn.
After whining how my entire diet revolves around wheat and I have already made huge changes in my eating habits, I surmised that I now have to learn to cook in a  completely new way.
I let him know I was already steaming my veggies. But then I realized I was using a plastic steamer appliance.
(I am on the journey to rid my home of as much unhealthy stuff as I can: including teflon and plastics in the kitchen. Note I said journey and still used a non-stick skillet here. UPDATE: I now use a ceramic coated skillet.)
He responded by giving me healthy recipes and explaining to me how to steam veggies with chicken!
I adapted his recipe somewhat to come up with this version.
I always MAKE IT MY OWN!
It is very simple and delicious!
Sautéed Chicken
In a large skillet, pour in a few tablespoonfuls of Chicken Broth/Stock (read label for no MSG).
Heat it till it begins to simmer.
Place into skillet your sliced boneless Chicken Breasts ( try to use antibiotic/hormone free and free-range).
Sauté the chicken pieces for about 2 minutes.
Turn chicken.
Add to skillet: Crimini Mushrooms and veggies. (I used leftover mixed veggies and green beans.)
Cover skillet and steam for about 3 minutes.
Uncover. Stir and sauté for about 4 more minutes.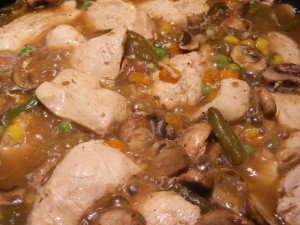 There you go, a healthy alternative to stir frying with oil!
In under 10 minutes!
What veggies do you want to steam/sauté with your chicken?