I remember watching episodes of the Waltons where Mama and Grandma are canning and putting up for the winter.
Some days Verdie would come by to help.
Canning is easy enough.
Just time consuming.
The more hands. The more help. The more enjoyable it is.
Here are some items to gather up before pressure canning:
* When canning always follow the instructions that came with your pressure canner.
Gather your ingedients.
5 pounds of ground beef/venison
2 cups of chopped onions (or 1 cup dehydrated onions)
2 green peppers chopped
2 Tbsp brown sugar
2 garlic cloves minced
1 tsp marjoram
2 tbsp parsley
1½ tbsp salt
1 tbsp oregano
½ tsp pepper
½ tsp ginger
½ tsp allspice
2 tbsp apple cider vinegar
about 9 cups tomato purée
111 oz can tomato paste (use enough to thicken to your desire)
Let's get started:
In 16 qt saucepot, brown beef/venison. Drain if necessary. Add onions and peppers and simmer till tender.
Meanwhile, using Sauce Master begin to purée tomatoes.
I love the Sauce Master because there is no need to blanch to remove skins!
I used about 2- two gallon bucketfuls of Roma tomatoes.
We added tomato peelings/seeds to compost in years past.
However, the chickens and pheasants enjoy them as a treat now!
Since adding all the birds, my compost pile is growing at a much slower rate!
Back to the recipe:
Add brown sugar, garlic, spices, and vinegar. Continue to simmer. Stir occasionally.
Continue to add purée alternating with paste till you get a thickened consistency.
Fill pot almost to the top to make a double batch.
I add 2 Tablespoons of white vinegar to my canner to prevent water stains on jars.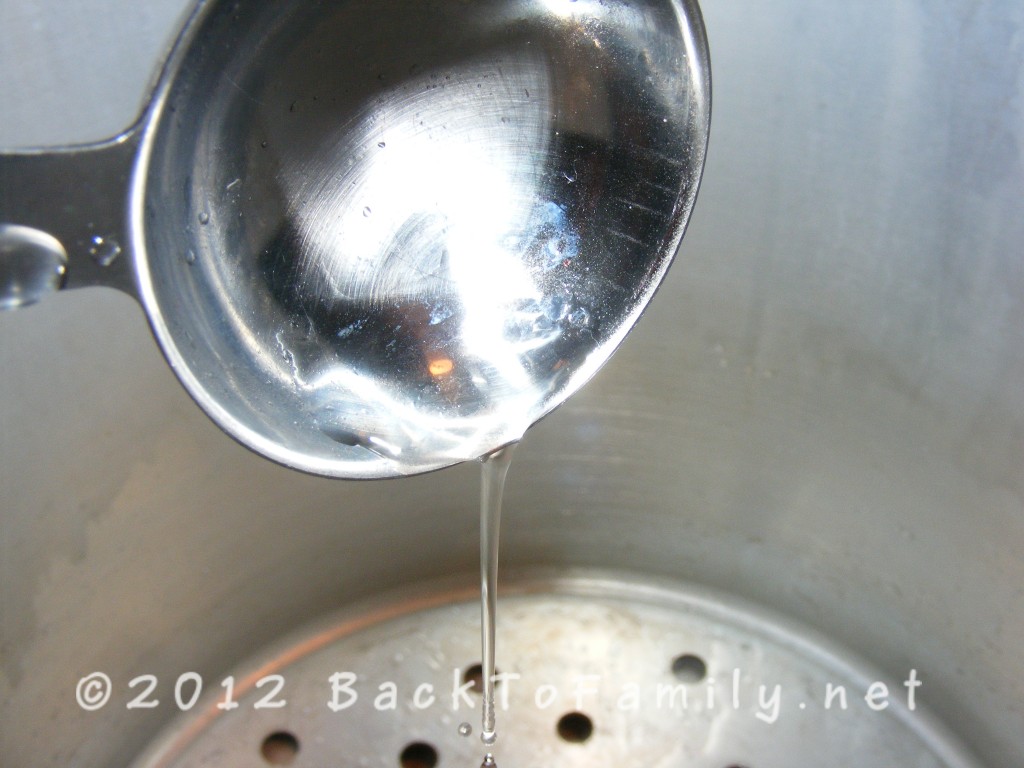 Now for the pressure canning:
NOTE: Process jars according to the manufacturers directions that came with your pressure canner.
Process Meat Sauce at 11 pounds pressure for 1 hour and 15 minutes.
Begin timing when gauge reaches 11 pounds. Adjust heat to maintain.
Once processing is finished, turn off heat. I remove the canner from the stove.
Let pressure drop on its own, according to directions that came with your canner.
The next day, check seals.
Remove bands. Wash jars in soapy water.
Dry well. Label.
Store in a cool dark place. Do not stack.
I make this extra thick to serve many purposes.

For Spaghetti Sauce: I add tomato juice to thin it a bit.

For Chili: I add beans, chili powder, and cumin.

For Sloppy Joes: I use it as is.

For Long Boys: I spoon onto hot dog buns, sprinkle with cheese and bake.

You can add it to Lasagna or Marzetti.
What other uses can you think of?
Linking up this week with: