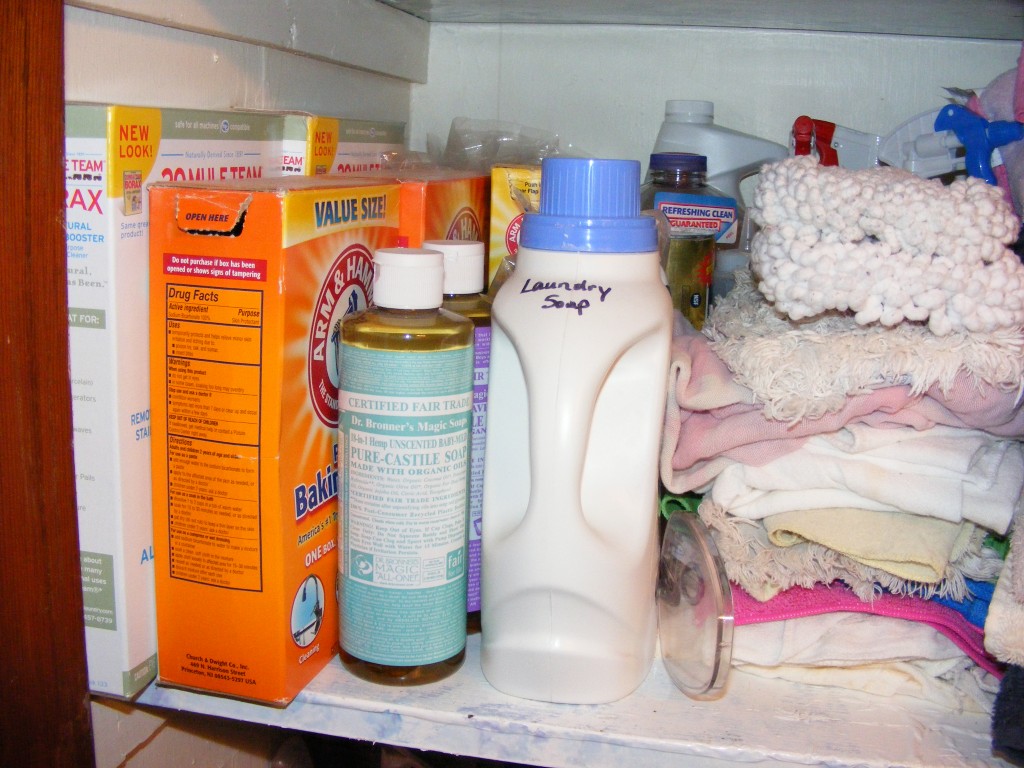 Fall Cleaning has begun around the homestead.
I like to start in the Bathroom.
Ours is very small so it seems to go quickly.
The Bathroom is the one area I am having the most difficulty going TOXIC FREE.
Takin' it one step at a time though.
We'll get there!
No more sponges and step stools
Washing walls isn't a pain (as much of a pain anyway!) with my wall mop
and mop head
 that a friend introduced me to years back.
I hated how sponges would tear on nails and crumble.
Say goodbye to climbing on step stools to reach top of walls and ceilings.
I purchased 2 mop heads with mine close to 10 years ago and they are in fantastic shape!
Although, it costs more up front, it has saved me money in the long run.
I went through many a sponge let me tell you. 🙂
Besides, I think it cleans much better and is machine washable!
De-cluttering
Here we go!
Medicine Cabinet
Check expiration dates. Pitch outdated items. Mark an X on bottles close to expiration.
Throw out any  prescription meds no longer needed.
Give away/throw away any OTC meds no longer needed.
Add: Make homemade deodorant to To-Do List.
Add: Make homemade toothpaste to To-Do List
Linen Closet
Organize sheets/pillowcases (I saw a neat trick on Pinterest~ Store sheet sets inside one pillowcase)
Organize bath towels/wash cloths/hand towels/beach towels.
Place old worn towels in rag bag in garage.
Be sure to stock up on cleaning supplies- Borax, Washing Soda, Kirk's Castille Soap bars, Dr. Bronner's Lavender Castille Soap bars, Dr. Bronner's Liquid Castille Soap, Baking Soda, Hydrogen Peroxide, White Vinegar
Sort through everything stored inside. Not used within a year? Pitch it. (If you're like me and wonder what if you just might need it~ place it in a box for a Spring Yard Sale. If you don't use it by then, chances are you can live without it.)
Add: Make homemade Shampoo and Conditioner to To-Do List.
Vanity
Pitch old make-up.
Combine almost empty bottles of similar products.
Unused  new products can be put in the Yard Sale box in the garage.
Is it time for a new toothbrush?
Do we really need these dust collectors in here?
 Cleaning
Wash mirrors with ¼ cup vinegar combined with water in a spray bottle.
Spray and soak mildew with 50/50 solution of hydrogen peroxide and water (or vinegar/water mix).
Clean tub/sink with baking soda. (I use Bar Keepers Friend on sink, tub and toilet when extra cleaning power is needed.)
Sprinkle borax or baking soda in toilet. Let sit for awhile. (Sometimes I use Bar Keepers Friend.)
Use old toothbrush to scrub around faucet with baking soda or borax.
Wipe shelves with vinegar/water mixture.
Keep a spray bottle of white vinegar handy (NOT diluted) for spraying faucets, shower head, toilet handle, shower/liner daily. I let air dry.
For those of you with little ones,  I kept bath toys in a cloth mesh bag hung from the tub faucet to dry before storing in a basket in the linen closet.