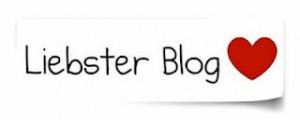 Back to Family has been nominated for the The Liebster Blog Award  by Katie from The Creative Bubble.
Thank you Katie! I am truly grateful.
Friends, lets show Katie some Walton Lifestyle Love by visiting her blog and following her via facebook, twitter, email, and/or pinterest. 🙂
In case you don't know what the Liebster Blog Award is, it's an award given by bloggers to up and coming bloggers who have less than 200 followers. It is to show new bloggers that they are appreciated, and to help spread the word about new blogs. It was created to promote appreciation and recognition among the blog world. Liebster translates to "dearest" (or favorite/best) in German. It is also known as the Love Blog Award.
What an awesome honor.
The Rules:
1. You must post 11 random things about yourself.
2. Answer the questions that the nominator set for you.
3. Create 11 questions for the people you nominate.
4. Choose 11 blogs you love (with less than 200 followers) and link them in your post.
5. No tag back (but please leave me a comment on this post with the URL to your Liebster post so I can learn more about you)!
So here are 11 random things about me:
I can read and write Braille.
I was a girl scout leader and Sunday School teacher.
I married my high school sweetheart over 20 years ago.
Dinosaurs fascinate me.
Although I grew up in a major city, I am a country girl now.
I dream of living on a farm. With lots of chickens.
I feel closest to God in my garden. I have laid down among the beans many times talking to Him.
I LOVE The Waltons!
My favorite way of praising God is singing, but I can't carry a tune in a bucket. Oh, the irony.
Snow makes me happy.
I could never have too many friends or cats.
And here are the questions my nominator set for me to answer:
1.  When it comes to blogging, what types of things do you enjoy: photography, writing, crafting, sharing, networking, etc.?
Blogging is first and foremost a ministry for me. I try to lead others to a relationship with God and simple living, focusing on family and faith. Blogging is also a creative outlet for me as I love photography and writing.
2.  What types of blogs do you like to follow and why?  You can list them if you want.
Faith, family, recipe, homesteading, and simple living blogs are my favorites. These are dear to my heart because our society is too fast paced and rushed for me. I like to read these types of blogs and enjoy the slower paced lifestyle where we enjoy one another's company. Oh, I have so many I love. I'll list just a few: Homestead Blessings,  Comfy in the Kitchen, Generation Cedar, Food Storage Made Easy, Lehman's Country Life, Little House Living, New Life on a Homestead, Nourishing Days, The Welcoming House, Fun Home Things, The Morris Tribe, and The Time Warp Wife. Go visit with them awhile. I'll wait… 🙂
3.  Do you think it's difficult to find the time to blog?  Do you schedule certain times to work on your blog?
Yes I do! I am living and experiencing the very thing I want to write about! I remember an episode of The Walton's where John-Boy was frustrated because he longed to be alone to write, yet he needed to balance his time being with his family so he would have something to write about. I work on my blog very early in the morning. I have to admit I get distracted easily with social media. I plan on scheduling my time better in the new year. I have so many things I want to share with you!
4.  What is your favorite hobby?
Reading. I always have a pile of books on loan from the local library. I have shelves of books in each room. I have given away many books. Somehow they keep multiplying!
5.  What is your favorite holiday and why?
Easter. My earliest memory of celebrating God with my family growing up is attending Easter services. Easter reminds me of how much I am dearly loved.
6.  What place would you like to visit the most?
Israel. To walk where Jesus once walked would be amazing.
7.  What's the first thing you would grab if your house was on fire (besides pets and family members)?
A box of full sd cards & video tapes and as many photo albums as I could carry.
8.  Do you have a job in addition to blogging?  …or are you a stay at home mom?
Proud stay at home momma.
9.  What is your favorite dessert?
Chocolate anything. 🙂
10.  What are some things your dream home would have?
Acres! A winding driveway lined with a wooden fence. A pond. A barn. Lots of chickens and farm cats. A huge garden and orchard. A wrap around front porch. A sunroom. Filled with family and friends.
11.  Can you recommend any good books?  Why do you like it/them?
The Quest Study Bible. So many others!! Here are a few: The World's Healthiest Foods, Gooseberry Patch Cookbooks, Charlie and the Chocolate Factory, Left Behind series, anything by Carol Kent and Bruce Wilkinson, and I Am Not But I Know I Am.
Here are questions for those whom I nominate to answer:
How long have you been blogging and how did you get started?
List your favorite blogs and what it is that you love about them.
What is your favorite family tradition?
Who is the person who inspires you the most and why?
Describe your dream home.
What is your most heartwarming memory from childhood?
What is your favorite leisure activity?
Who is your favorite Walton character and why?
How did you meet your spouse if you have one? If not, who is your favorite couple?
What is your favorite animal and why?
What legacy do you wish to be remembered by?
And here are the 11 blogs that I nominate:
Living Simply at Maple Valley Farm
Note to nominees: Please leave me a comment with your Liebster post, so I can read up on you. Also, please link back to this post on your blog. (Please do not be offended if you don't have more than 200 followers…or if you do. 🙂 )