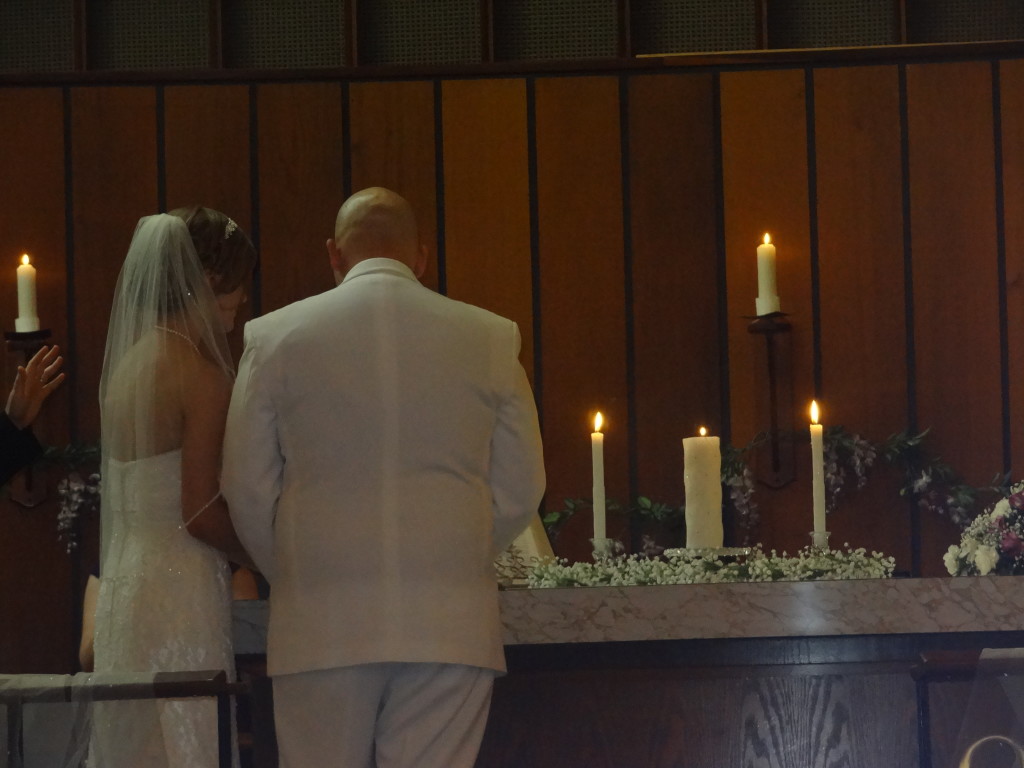 Wedding preparation has thankfully kept my mind occupied as of late.
Being a sentimental mom, I tried to keep focused more on tasks to be done rather than the bittersweet life-changing event about to take place.
I was fine at the rehearsal until… I saw youth ministry leaders, Carrie and Shawn walking together arm in arm, strangers to each other but both friends of Jesus. Each investing Christ's love into the radiant Bride and her Groom.
Then for the Big Day. I was fine until… my handsome husband of 25 years came to escort me down the center aisle. I cried the entire walk.
The Walk of Memories.
Guests speculated as to the source of my tears. Little did they know of the voices I was hearing.
"Momma, sing My Girl to me again!"
"Can I put the pepperoni on, Momma?"
"Momma, let's march and sing Yellow Submarine!"
"I hurt myself, kiss it better Momma."
"When I get bigger, I am going to marry Daddy!"
And then a short time later, there awaiting her sister, the Maid of Honor with her flowing red curls. Memories again flooded my mind. Two young girls. Best friends since birth. Climbing trees, wading creeks, running through fields with their Beagles.
Our number one goal as parents, to introduce our children to Jesus.
Our number two goal as their parents, to encourage an unbreakable bond between sisters.
I believe we have succeeded.
It is time to rise and I watch as Daddy now escorts his little girl down the Walk of Memories.
I see the tightness of his face. His clenched jaw. The distance in his eyes.
He is putting worms on hooks.
Tickling tummies with his whiskers.
Holding back briars.
Pointing to hiding mushrooms and fawns playing.
Fixing broken bikes and soothing broken hearts.
He soon joins me. We watch as our responsibilities of parenthood transform.
Linking up with these awesome blogs: