Do you feel a constant sense of urgency?
Bells. Buzzers. Ringers. Beeps. All calling for you.
Ahhh….Calgon, take me away! Back to Walton's Mountain!
New here? We are in a book study featuring Courtney Joseph's book, Women Living Well. For details click HERE.
For all the studies in this series hover over the Chatting button above and click on WLW Book Study.
Chapter Four: The Effects of the Media Revolution
This chapter in Courtney's book really speaks to me.  I fight this sense of urgency that surrounds me on a daily basis. As I read over the media listed on her "Out" list, I notice that I still use a majority of them: Maps, CDs, Corded Land-line Phones, Printed Catalogs, VCRs and so on. It's not that I'm against new technology. I would love to someday get an MP3 player to replace the cluttering mountain of CDs. On the other hand, my pre-paid cell phone works just fine for me at this point. Over time I have tried to adopt The Walton mindset: If it aint' broke-don't fix it; Mend it-make do-or do without.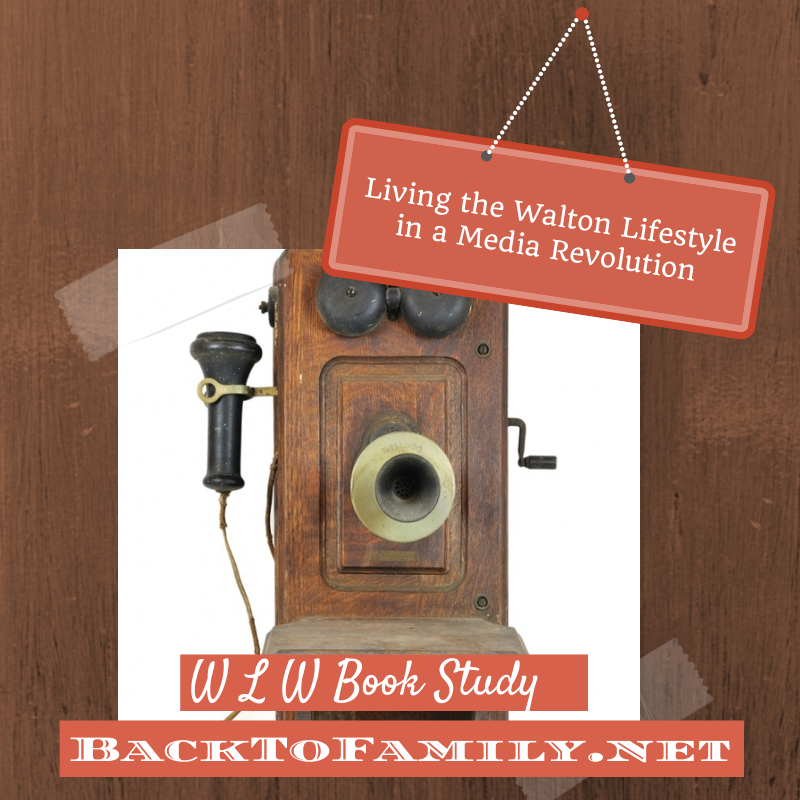 New technology, along with the cost involved (monetary and effect on our lifestyle), must prove its worth. It becomes unwelcome when it disrupts our lifestyle and our budget. I recall an episode on The Waltons when Momma had a telephone installed as a surprise 25th Anniversary present for Daddy. In the beginning it was new and exciting. But after a short while, the children were talking on it quite often tying up the line and then it began to ring during inconvenient times. For instance, bath time and dinner time. John Walton had said to his family, "I won't have that thing controlling our lives." We must put limits and guidelines on media for ourselves and our children.
Media is amoral. In and of itself it is neither good nor evil. It is our use of it that determines its morality.

~Courtney Joseph, page 37
Here are a few reasons I resist the effects of media on our family:
Budget Busters

[It blows my mind what some of y'all pay for cable and cell phones. Technology can get pricey.]

Distractions

[Facebook and email tempt me away from my quiet time with God daily. It also saddens me when we look down onto tiny screens instead of into one another's eyes.]

Isolation

[Online 'friendships' can give a false sense of intimacy. Closeness develops through experiences shared together.]

Unfiltered Boldness

[It is much easier to type bold statements than to speak them. Hurtful harsh words. Transparent vulnerable feelings.  And precisely why I believe cyber bullying is a growing problem just as is online infidelity.]
Technology doesn't just come with negative baggage. There are perks too. With the negative aspects of adding the telephone to the family home, came some positive ones as well. The Walton's telephone became a welcomed new technology when the voice of John-Boy could be heard crystal clear on the Virginia mountain all the way from New York City.  The sound of a loved-one's voice is such a beautiful thing!
Social media is cool in the sense you can interact with alot of people all at once. Or keep in touch with family who live far away. But we really do need to be aware of our typed words. The tone of voice can't always be heard through the texted word. Sometimes an innocent teasing comment can be misconstrued as hurtful sarcasm. There is a lot of wisdom in an article from Relevant Magazine about thinking before posting.
GPS is a technology I have resisted for some time. I like my maps. I am a visual learner who likes seeing the whole picture. Years ago when the mobile GPS systems first came out,  we borrowed one to take along on our vacation. Once, our gas gauge was on E and no gas station was in sight. I turned to the technology box for help. The handy dandy GPS took us miles and miles from the highway to a gas station that appeared to have closed during the Great Depression.
BUT, GPS technology did prove its usefulness to us just several years back. My husband and I were driving about in Amish Country. Not the Amish Country where the antique malls and gift shops are. The Amish Country where the farms and cows and goats and corn fields are. We drove along one cow-path sized road after another. They were not listed on my state map. When we came to the top of a hill our cell phone reception returned. I called home for guidance. Angel used Google maps to locate our whereabouts and get us off the beaten path. I never thought I would see civilization again! After that I did not rush to buy a GPS… but I did buy an Amish Country map complete with all the cow paths!
On page 43 Courtney speaks of Information overload. I went through something similar. When blogs, Facebook and Pinterest were new to me, I also friended many people and liked many pages and followed many pinners. I became overwhelmed quickly. I decided to prune what was necessary for me. I sifted through my friends list and deleted many.  If I would feel uncomfortable around someone or wouldn't know them in person well enough to speak to them, I deleted them. As Courtney did, I deleted all guy friends awhile ago too. It's not that we can't have friendships with men, I just felt the same as Courtney. Satan would love a foothold to grasp and to immerse us with temptation. I refuse to give him that opportunity.  Though I did keep on my list men within my church family. After reading this chapter, I will contemplate whether to delete all men who are not blood relatives.
Friends, social media is not a bad thing. We just need to be aware of the affect it has on us. Be conscious how much time we spend using it. Be aware of the people around us. Think before texting and posting. Filter our words. And remember it is okay to allow calls to go to voice mail. Seriously, it is ok.