This is a simple way to use up excess tomatoes from your garden or local farm market.
A versatile sauce well deserving of space on your pantry shelf that's for sure. It can be heated up with a little cream, salt and pepper for a delicious Tomato Soup. Add cooked rice for Old-Fashioned Tomato Rice Soup. It makes a great base for Vegetable Soup too. Stir in browned ground beef and Italian seasonings and you have Meat Sauce. Cook it down a little to thicken, add oregano and you have Pizza Sauce. The possibilities are endless!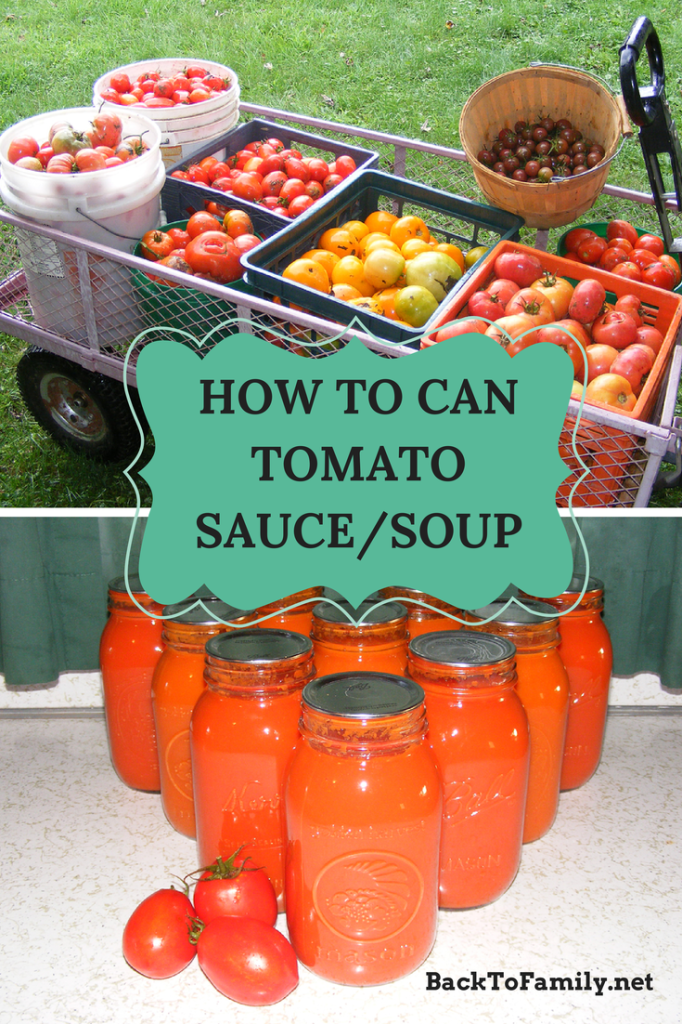 Gather Canning Equipment:
Boiling Bath Canner, Rack, Lid
Jar Lifter
Canning Funnel
Magnetic Lid Wand
Kitchen Timer
7 Quart Jars regular mouth, lids, and bands
12 Quart Stock Pot
8 Quart Stock Pot
1 Quart Sauce Pot
4 cup glass Measuring Cup
Metal Strainer
Rubber Spatula
Clean Dish Cloth
Kitchen Towel
Immersion Blender
Bowl for discarded seeds (Chickens love them)
Paring Knife and Cutting Board
Gather Ingredients:
5 gallon bucket full of Tomatoes (Roma, pear-shaped paste tomatoes are best)
4 large Onions, sliced
½ cup Olive Oil
Lemon Juice
Gather Family and Friends:
Canning is not difficult but can be time consuming.
Always much more fun done with company (Verdie was known to stop by to help Olivia Walton now and again).
Passing these skills down to the next generation will enable them to provide for their families.
Directions:
Heat 12 Quart Stock Pot for a few minutes. Add Oil. Add Onions. Cook for 10 minutes.
Wash and quarter the tomatoes.
Add quartered tomatoes, skins and all to stock pot.
Cover. Simmer for one hour. Stir often.
Meanwhile, fill Canner half full with water. Add rack and lid. Bring to a simmer.
Fill the 1 quart sauce pot with water and bring to a simmer. Add lids. Don't boil!
Blend with immersion blender on high till smooth.
Remove lid from canner. Raise the rack above the water level. Place jars on rack to keep hot.
You can also lower rack into the canner and immerse the jars to keep  them sterilized.
Place metal strainer over the 8 quart stock pot.
Using glass measuring cup, pour the hot liquid into metal strainer.
Use the rubber spatula to press the tomato sauce through the strainer.
Discard the seeds in a bowl.
Remove one canning jar from canner and place on a towel.
Place 2 Tablespoonfuls of Lemon Juice into the canning jar.
Using the glass measuring cup, pour the hot tomato sauce into the jar.
Leave ½" headspace. (The space between the jar contents and the top of the jar.)
Wipe the rim clean.
Using the magnetic wand remove a lid from simmering water and place it on the jar.
Twist on a band fingertip tight only.
Place on the rack in the canner.
Continue until all 7 jars are filled and in the canner.
Lower the rack if you haven't done so.
The water must cover the jars by 1-2 inches. Add hot water if needed.
Cover the canner and bring to a full boil.
Reduce heat to maintain a gentle rolling boil.
Begin the process time. Set timer for 35 minutes.
Turn off heat. Remove lid and raise the rack.
Use jar lifter, remove jars and place on a heavy kitchen towel a few inches apart.
Let them sit untouched for 24 hours to cool and seal.
Check each jar to be sure it sealed by pressing center of lid. If it "clicks" it is NOT sealed. Refrigerate it and use it within a few days. The center of the lid should not move at all.
Remove bands and wash jars in soapy water.
Label the lid with contents and year.
Store on shelf in a cool dark place.
Pictorial: