Hey Mom! Looking for a fun and easy Christmas craft to do with the kids? Here ya go.
Making Cinnamon Ornaments has been a fun family tradition in our home for years. The Holiday Season officially begins by rolling out a batch of these yummy smelling decorations. They can take up to a week to completely dry so be sure to make them ahead in plenty of time before decorating your Christmas tree. Your home will smell fabulous!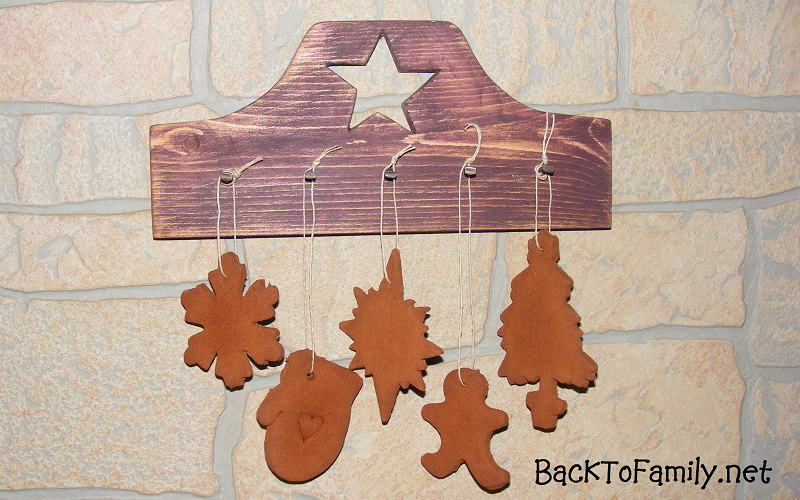 To make your Christmas gifts more festive tie them on packages with ribbon. Your child can give them as gifts to teachers, instructors, school bus drivers and Sunday School teachers. Make a dozen as a gift to Newlyweds to celebrate their first Christmas! So many possibilities…
C'mon! Let's get started!
Gather your ingredients and supplies:
7 bottles (2.8 ounce) of ground Cinnamon
1 quart Applesauce
1-2 Tablespoons of ground Cloves (optional)
1-2 Tablespoons of grated Nutmeg (optional)
1-2 Tablespoons of ground Allspice (optional)
Ribbon, Yarn, or Twine
4 Wire Cooling Racks or Paper Bags
Small straw
Gather the family and let the fun begin:
Blend 6 bottles of cinnamon and the other spices in a large bowl.
Stir in the applesauce one cup at a time.
Knead with your hands till smooth.
Divide the mixture into fourths.
Dust your counter with the remaining bottle of cinnamon as needed.
Dust the rolling pin and top of dough ball with cinnamon.
Roll each section to ¼" thickness onto the cinnamon covered counter.
Cut out with your favorite cookie cutters. Gingerbread men look especially nice!
Cut a small hole in the top with a small straw.
Place on racks to dry. This could take up to a week.
Turn daily to dry evenly. They will get lighter as they dry.
Thread with ribbon, yarn, or twine.
Makes about 4 dozen ornaments.
Picture Tutorial: