If you like tomato soup, give this one a try. Perfect for a brisk fall evening.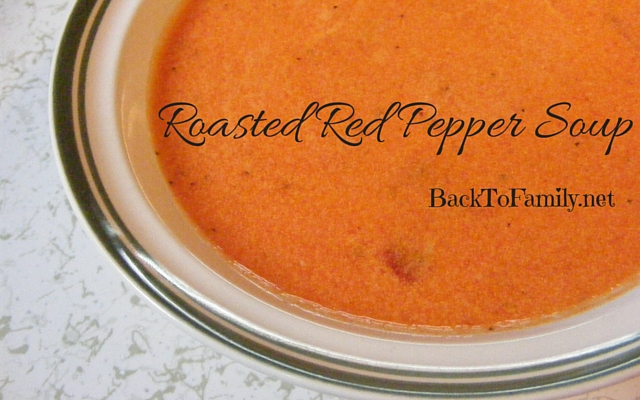 Ingredients:
2 onions, chopped
4 teaspoons unsalted butter, organic if possible
1 teaspoon minced garlic, organic if possible
½ teaspoon dried garlic and herb seasoning
½ teaspoon basil
¼ teaspoon sea salt
33.5 ounce jar roasted sweet red peppers, drained
2 cups vegetable broth
2 cups half and half, organic if possible
1 red pepper, diced (OR use a few from the jar)
Directions:
In a large saucepot, sauté onions in butter until tender. Add garlic and continue to sauté a few minutes longer.
Stir in garlic and herb, basil, salt, drained peppers, and broth. Bring to a boil, then simmer covered for 15 minutes.
Carefully using an immersion blender,  in the pot blend the soup until smooth.
Remove about a cupful into a bowl. Stir in the cream. Return to pot.
Stir in the diced red peppers.
Heat thoroughly without boiling.
Pictorial: