These potatoes can be a quick dish to make for a pot luck supper.
This past weekend I whipped these up lickety split from ingredients I had on hand to take to a family gathering.
Our new great-nephew was introduced to the family!
I had several requests for the recipe so I thought I'd share with you too!
CHEESY EASY POTATOES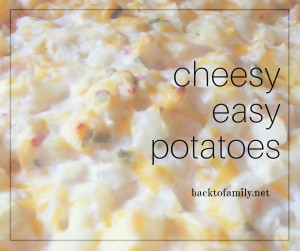 Ingredients:
2 lb bag of Southern O'Brien Style Hash Brown Potatoes (Thaw overnight in the fridge)
1 lb plain Greek Yogurt
1 can cream of chicken soup (any cream soup will do, I just prefer chicken)
½ stick butter, cut up in pieces
2 cups of shredded cheese (I use Velveeta)
grapeseed oil to grease pan
Directions:
Preheat oven to 425°.
Use Grapeseed Oil to grease 9×13 baking dish.
Mix the remaining ingredients together in a large bowl.
Place into the greased baking dish.
Bake for 15 minutes. Reduce oven temp to 375° and bake for 30 additional minutes.
Enjoy!