Last month I took a step outside my comfort zone.
More like a giant leap actually.
I had the privilege of attending Carol Kent's Speak Up conference in Michigan.
They offer Speaker's, Leader's, and Writer's tracks to sharpen your skills and meet with others in your field. They also offer one on one meetings with professionals.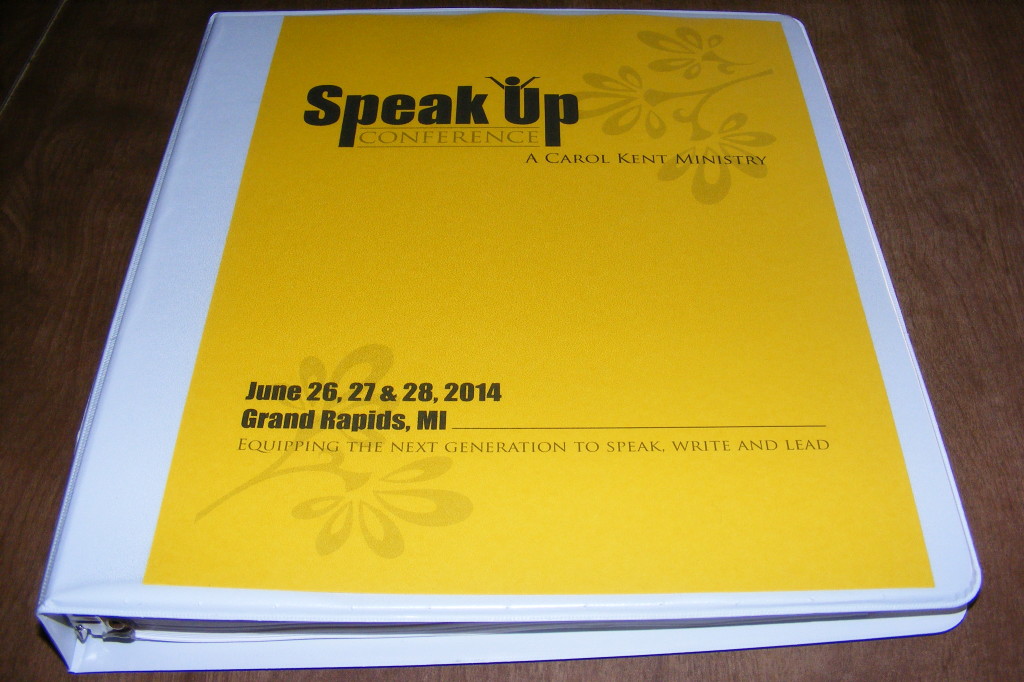 If you have ever wanted to attend a conference, I highly recommend this one.
Several months ago, I felt God calling me to attend. So, after dishing out excuse after excuse I finally ran out of excuses and registered. As the event grew closer, my nerves began to wreak havoc on my body. In an email to the conference director, I told her I was getting very excited for the conference but I had a major case of Butterflies in the Stomach. During the opening session, I was put at ease when I heard the beautiful host say these words:
"We won't get rid of your butterflies, but we'll help them fly in formation. A little nervousness is good." ~Carol Kent
My butterflies were tamed enough for me to enjoy myself.  I took in  much information and received such inspiration that my mind is still spinning. I learned many, many things at the conference. Here are just ten:
Writers have the best spouses in the whole world. It's true. Mine made the drive to Michigan with me. I had a list of all the local sporting good outfitters and their locations ready for him. He didn't mind the waiting on nights when the conference would go over. I learned that he was not the only husband to hang out in Grand Rapids for three days "waiting on his woman" as Mr. Paisley would say. Others stayed home and cared for the family and households while their spouse was away. One writer even returned home to a brand new office space created just for her by her husband.
Mice do not run well upside down. I arrived at my very first workshop with laptop in tow ready to begin work on a One-Sheet (not really sure what a One-Sheet was but eager to find out). I plugged in my laptop and retrieved the wireless mouse. (Yes. I am mouse dependent. My days of being a Braillist broke me of the habit, but when I gave up brailling my habit returned.) I was nervous anyway but imagine my horror when the cursor was acting as if it were possessed. I moved the mouse right~it went left. I moved the mouse up~the cursor moved to the bottom of the screen. After a moment of panic followed by logical thought, I turned the mouse around and Voilà!
God really does care about the little things. I asked Him to go before me and handpick a friend or two for me. I am an introvert, as I found out most writers are. When my husband first dropped me off at The Prince conference center, I wanted to jump back into the car. Instead, I took a deep breath and went inside. People were scurrying here and there. I took a notebook with my name on it (each one had been prayed over) and headed down a hall where I saw an open room. I sat beside a woman with a laptop plugged in. "Can I share your outlet?" Mandi was warm and welcoming. I immediately liked her. Then Peggy came and sat on the other side of me. She had a spirit of comfort and encouragement. Throughout the next three days I met many inspiring women and men. I truly felt blessed to be there! During our last meal together, as I was speaking to a new friend Sherry who was encouraging and uplifting, I found out I wasn't the only woman in attendance who prayed for a friend or two. God answered both our prayers with many new friends that weekend.
Continue reading~ 10 Things I learned at the Speak Up Conference »