This Monday begins my 40 day journey to Easter.
I have sacrificed things for Lent in the past. A few years back I "gave up" chocolate.
I know that sounds frivolous considering what God has sacrificed for me. However,  I do love my chocolate and God did use it for His glory. He's amazing like that.
Our family was on a road-trip with friends. We were passing around snacks and I accepted an offer of a chocolate malted milk ball. The instant it hit my mouth I realized what I had done. I refuse to swallow and before I knew it, melted chocolate was dribbling down my chin. No napkins. No tissues. I had to swallow. The friends of our girls asked why I couldn't eat the chocolate leading the way to a discussion of Lent, Sacrifice, and Easter.
This year, 2014, I feel the Holy Spirit drawing me closer to Him.
I have begun disciplines obeying the Word that have resulted in great blessings already. I will share those another time. For now, I find myself drawn to a time of fasting. With a genuine heart. I have fasted in the past. In all honesty, I was more concerned with losing weight than my prayer life. I would fast by reading my Bible during a mealtime with one eye on the clock. Is it time for a mid-day snack yet? God still would use those times to speak to me, but now I am ready to go deeper. I want to know Him more intimately.
I want His blessings on my family!
I found this book by Marilyn Hickey.
Marilyn, along with her daughter Sarah, have a television ministry.
I have only just begun reading this book filled with pearls of wisdom!
The Power of Prayer and Fasting, 21 Days That Can Change Your Life.
Marilyn suggests keeping a daily journal during your fast.  A place to record what God is placing on your heart and convicting in your mind. The graphic below shows what I will be recording in my Prayer Journal based on Marilyn's book.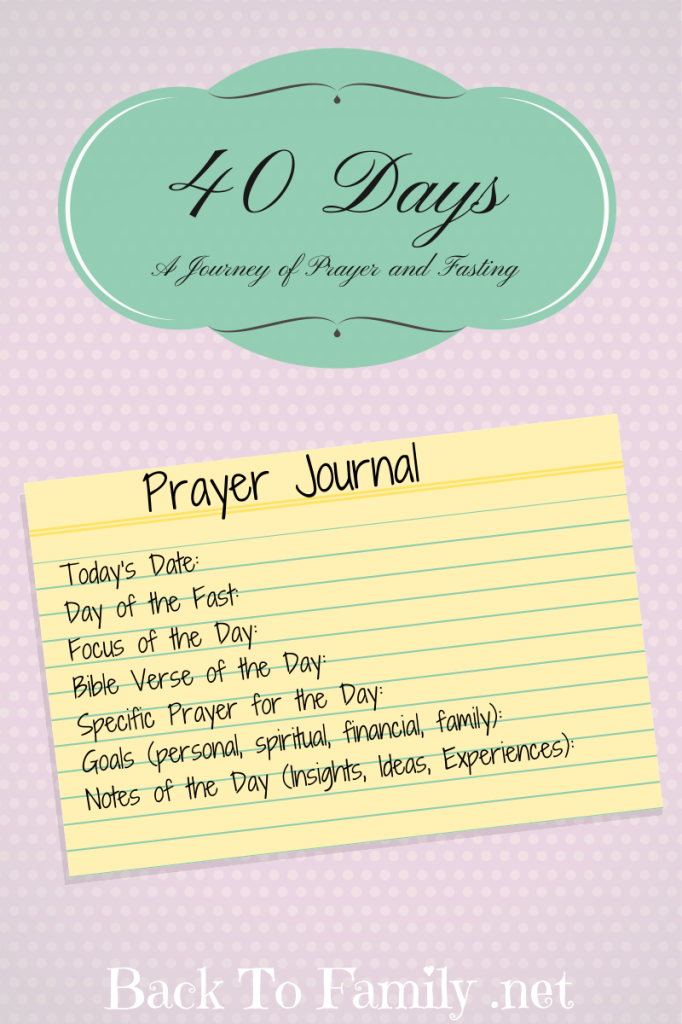 Join me on this journey!
Grab a notebook and pen and your favorite Bible or use Bible Gateway.
Beginning Monday, I will be choosing a meal per day to refrain from. I will spend that time with God in His Word.
Marilyn writes of how she fasts for 7 meals per week, not necessarily one per day. Choose to fast the way you feel comfortable with.
Perhaps you want to give up sweets or snacktime. That's a good start. You can give up a TV show. In that time period, open your Bible instead.
Blessings to you as we begin this 40 Day Journey!