"Mom, you are a creep."
Years back when one of my girls called me a creep, she was treading on treacherous waters.
"WHAT did you call me??"
"You're a facebook creep, Mom," she said with a grin."
"What on earth is a facebook creep?"
"Someone who reads other people's facebooks."
"I know I'm Just-A-Mom, and new to this facebook thing, but I thought the whole purpose of posting was for other people to read them."
"Only if you're facebook friends with them and it's a recent post."
"Well, sorry 'bout your luck, honey. But I don't live by everyone else's rules."
A picture making its rounds online said "A worried mother has better investigative skills than the FBI." I'd like to change that to an involved mother. A caring mother. A loving mother. It is our duty as parents to know our children. What they do online and who they spend time with. It amazes me the things kids post online. The language. The suggestive poses. The bullying. I wonder if the parents are aware or if they even care.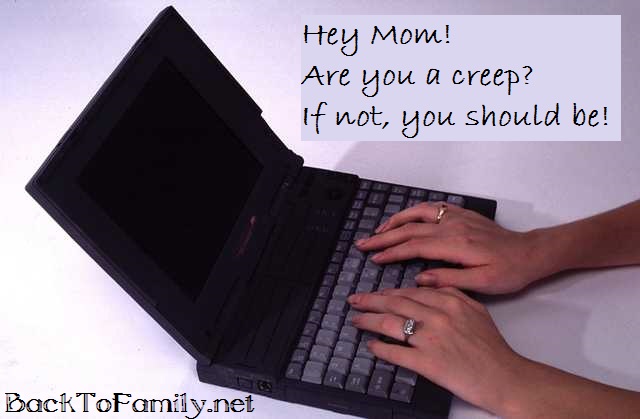 About 8 years ago I was being mentored. Marcia is a few years older than me and also has  daughters. She taught me numerous lessons within those sixteen weeks. Lessons about God and the Bible, but also about life and mothering. In a world where parents don't want to inhibit their children from what society has to offer, she taught me that being a Christian parent is sometimes like a salmon swimming upstream. We are called to do hard stuff. Make hard decisions. It's comforting to know someone is in your corner rooting for you who's been there.
Forbidden Friends
I've had to refrain my children from spending time with some of their friends in person and online. In past years we went over friend lists and  blocked some. Influencers of potentially harmful things. I recently heard a speaker sum it up like this:
Show me your friends, and I'll show you your future.
I heard it another way too: How do you expect to soar with eagles when you fly with turkeys? There was a time I was struggling with a decision to put an end to a friendship my daughter had. I wondered if my daughter could have a positive influence on this girl if I allowed the friendship to continue. A friend of mine gave me a great analogy her pastor had told her. It's great to want to influence someone in a meaningful way. But you have to be careful. Especially for a child. It's like being on a chair and trying to help someone up. It's much easier for them to pull you down. (Galatians 6:1)
The Dating Game
When it comes to dating set rules early. At what age? Will you allow dating or courtship? When I hear about a person of interest I check them out. What a person posts online for the world to see tells alot about them. The good and the not-so-good and the really-not-so-good.  I've heard of other parents who are intentional when it comes to their child's dating. The Duggar's for instance are a prime example. I was watching The Blessed Life with Pastor Robert Morris and he spoke of how he researches the characters of his daughters' suitors, one way being checking their tithing history. He firmly believes that tithing is honoring God and if a man honors God he will in turn honor his wife. Know who your child is with. Don't feel bad about your sleuthing. This is our children we're talking about. And speak up if you don't agree with something. My big pet peeve is the texting- I'm Here- when picking up a date. No! Get out of your car. Walk to the door. Knock. Walk the girl back to the car. And do the same when bringing her home. Oh, and be sure to say hello to her parents.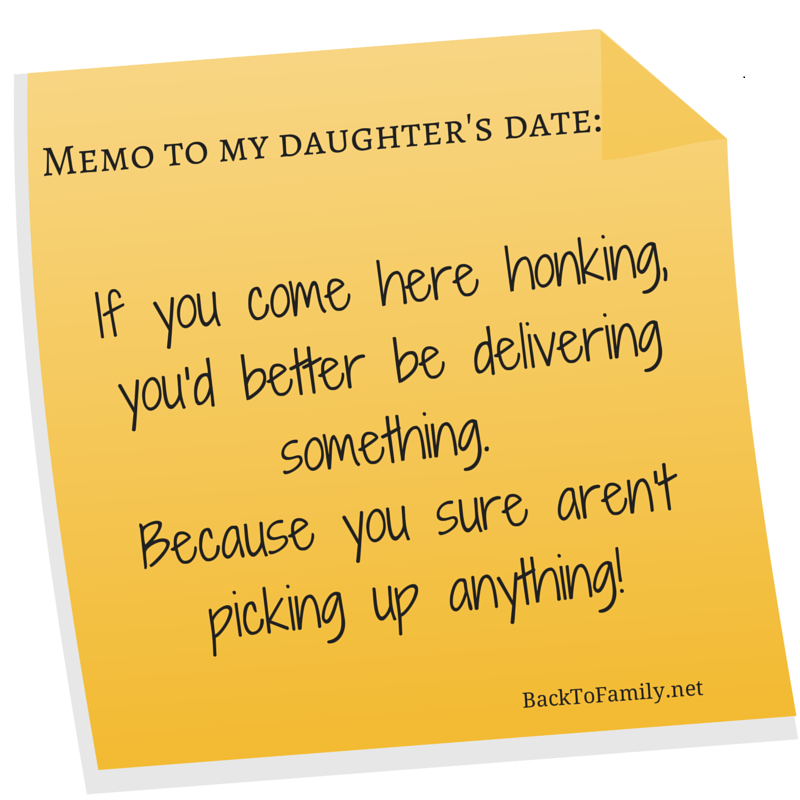 Warning Signs
When our daughter was a freshman at a Christian college, an upperclassmen committed suicide. It was an emotional time. Although I didn't know the family, I felt heartache for the parents. The father was overseas on a mission trip. I read the young man's facebook. I could tell approximately when some traumatic event must've happened to him. His posts transformed from uplifting and typical to hurtful and angry using strong language. His last post was a heartbreaking quote about love lost. Sometimes it's easier to express deeply felt feelings through an online post rather than conversation.
Online Monitor
Know their passwords. Know their friends. Make sure they know the people on their friends list. Look carefully at the pictures they are posting. Do they show hints of their location? I saw one post of a report card showing the child's name and full address. They don't understand the dangers lurking online. It's our responsibility to invest time monitoring if we are going to allow them on facebook and other social media outlets.
Eleven percent of parents joined Facebook specifically to "spy" on their children, and 55 percent use it to "keep an eye on them," according to the 2011 Bullguard Internet Security Survey. (USA TODAY)